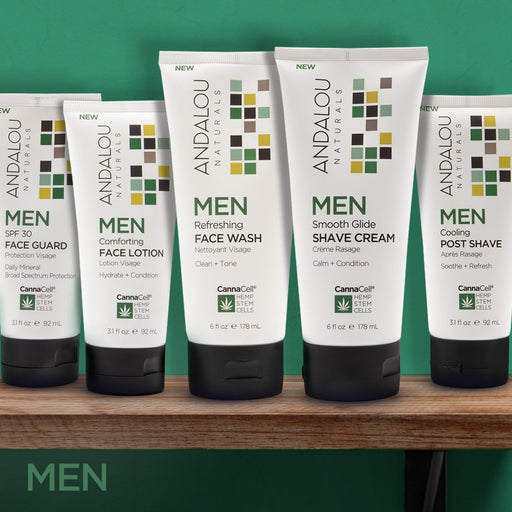 Men, we have created a new line just for you, and we think you'll absolutely love it. It's strong and natural, gentle and powerful – Just like YOU.

Grooming is not only about how you look, but how you feel. It's about being comfortable in your own skin and defining your natural style with products that best reflect you.

We created this line with you in mind – formulated with nature's active CannaCell® hemp stem cells, 100% pure hemp seed oil, and pure plant essential oils for skin that looks and feels its best.

Our CannaCell® hemp stem cells are naturally occurring phytocannabinoid antioxidants extracted from the mature stalk of the hemp plant. Superpowered antioxidants help counteract free radicals, oxidative damage, sun exposure, pollution, and premature aging.

CannaCell® hemp seed oil is a nourishing complex of proteins, nutrients, and minerals, rich in vitamins E, C, B1, B2, B3, B6, and the perfect ratio of 3:1 Omega-3 and Omega-6 fatty acids. The antibacterial, anti-inflammatory, and moisture retention properties help strengthen skin's barrier function and protect from dehydration and environmental stressors.

All products are made with bioavailable vegan ingredients to be gentle and effective for all skin and hair types. We've got you covered.


○ MEN Skin Care line includes: Refreshing Face Wash, Exfoliating Face Scrub, Comforting Face Lotion, SPF 18 Face Shield, SPF 30 Face Guard, Smooth Glide Shave Cream, and Cooling Post Shave.
○ MEN Hair Care consists of: Grooming Style Balm and Fortifying Shampoo + Conditioner 3 IN 1.
○ MEN Body Care contains: Invigorating Body Wash 3 IN 1, Energizing Body Lotion 3 IN 1, Botanical Deodorant – Highland Pine, and Herbal Deodorant – Mountain Sage Invigorating Highland Pine and Cooling Mountain Sage scents uplift and revitalize the senses, so you can feel just as good as you smell.
A full range of high-performance grooming products that deliver real results and enhance manageability for a refreshed appearance. Who wouldn't want that?