How to Double Cleanse Without Drying Out Skin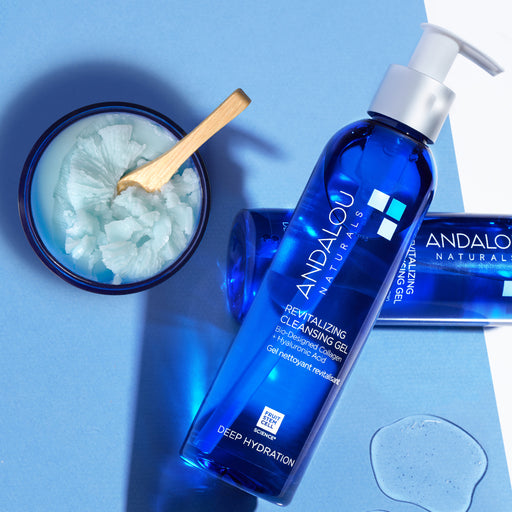 Sometimes (especially if you're wearing makeup or sunscreen) your regular face wash just won't cut it when it comes to getting your face squeaky clean. That's where double cleansing comes in. And, no, it's not as simple as just washing your face twice.
Double cleansing is a method that involves starting your face-washing process with an oil-based cleanser to remove makeup, dirt, oil, and sunscreen residue and then following that with a standard water-based cleanser to wash it all away
Many swear by this method to remove stubborn impurities that can not only clog pores and cause breakouts, but also prematurely age the skin and leave your complexion looking dull. The idea here is that by using an oil-based cleanser first, you're better able to break down the dirt, makeup, residual sunscreen, and natural oils produced by your skin throughout the day.
Double cleansing is a great technique for all skin types, but when your skin is more dry or dehydrated, it's important to take extra care to ensure that you're not over-cleansing and stripping the essential moisture in your skin. Here's how to double cleanse effectively without over-drying.
Step 1:
Your first cleanse will be with that oil-based cleanser. You can use a cleansing oil or a cleansing balm for this, but we prefer a cleansing balm as the solid-to-oil formula makes it less messy to use than a traditional cleansing oil.
Use your fingers to massage the cleanser all over your face, paying special attention to areas where you might have more makeup, like your eyes.
Step 2:
Splash your face with water before going in with your second cleanser. This is your more traditional water-based cleanser that you might normally use to wash your face, whether that be a cleansing foam, cleansing milk, or cleansing gel.
Wash your face as normal, finishing off with a water rinse and pat dry.
How to avoid over-drying
Make sure you're using a cleanser that targets your specific skin concerns. If you have more dry, dehydrated, or sensitive skin, it's important to find a cleanser that's not too harsh for your delicate skin barrier so you're not over-drying your skin.
Look for a gentle, hydrating cleanser with ingredients like hyaluronic acid or bio-designed collagen that will help replenish and maintain moisture in the skin. Using a gentle, hydrating cleanser like our Deep Hydration Revitalizing Cleansing Gel will ensure that moisture is not stripped from the skin with that deeper cleanse.
Shop all of Andalou's cleansers, here.