Lip Care 101: Why You Need To Start A Lip Care Routine
Lip care is so much more than chapstick. Here's why nourishing your lip microbiome might be your secret to smooth, soft lips.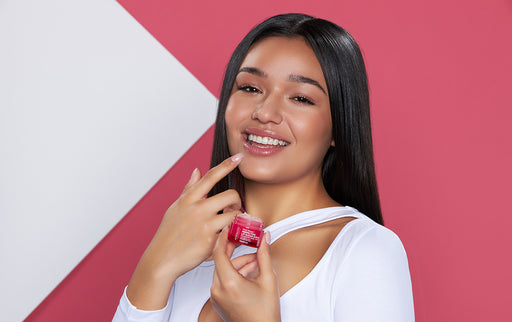 You may have your skincare routine down pat, but many forget that their lips are part of your skin, too, and because the skin on your lips is much more thin and sensitive than the rest of your face, this vulnerable area actually requires even more extra love and care. Not only is the skin on your lips more delicate and sensitive, but your lips also don't have oil glands, meaning they require extra help to keep moisture locked in.
Why your lip balm might not be cutting it
Ever feel like as soon as your lip balm wears off, your lips are chapped again, causing you to have to keep reapplying? Lip balms are made to form an occlusive barrier for the lips, sitting on top of the skin to basically mask all the dead skin cells without actually getting rid of them. In other words, a typical lip balm won't actually fix the root of the problem, it will only offer a temporary solution.
That's why we formulated our 1000 Roses Lip Care with powerful skincare ingredients like Alpine Rose Stem Cells and Rosehip Oil to target the root cause of dry and sensitive lips by supporting the delicate skin barrier and microbiome of the lips.
Here's our easy 2-step lip care routine to help you achieve smooth, soft lips.
Step 1: polish + perfect
The first step is your lip scrub which will help to stimulate blood flow, buff away dryness and dead skin cells, and promote soft, smooth lips with a sweet blend of upcycled pomegranate seeds and sugarcane. Massage your lips with the sweet blend of upcycled pomegranate seeds and sugarcane in our 1000 Roses Perfecting Lip Sugar Scrub to remove dead skin cells and reveal a perfect smooth pout.
Plus, exfoliating your lips helps boost the absorption of any products you apply next, meaning it will help your other lip care products work even better.
Step 2: lock it in
Right after scrubbing, it's important to restore and lock in moisture with a lip balm or lip mask, like our 1000 Roses Lip Sleeping Mask, formulated with a blend of rosehip oil and fruit extracts to nourish and deliver intense hydration to the lips.
A lip sleeping mask is perfect to restore lost moisture and repair damage from the day while you sleep, and it can also be used during the day to help protect from environmental aggressors and keep lips looking plump and juicy.