The Andalou Skin Care Survival Guide: How to Start a Basic Skin Care Routine
Not sure how to spend your Andalou gift-card? Here's everything you need to know to put together a basic beginner-friendly routine with products that are right for you.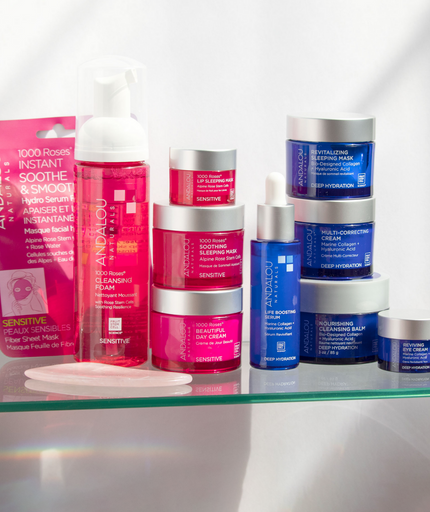 With so many products and information out there, skin care can feel daunting and it may be hard to know where to start. But your skincare routine should have the opposite effect, providing a calming moment of self-care rather than being overwhelming.
Not only will a good skincare routine help improve your physical appearance, but it's an important part of taking care of your overall health. Your skin is your body's largest organ and the barrier to everything on the inside. Healthy, well-cared-for skin shows itself with fewer breakouts, less fine lines and wrinkles, and a radiant glow.
Learning the basics and starting with a super-simple and quick routine can make it easier to get into the habit of skincare and incorporate it into your busy day.
FIGURING OUT YOUR SKIN TYPE
Everyone's skin is different and not everyone should be using the same products. To make sense of all the many types of products on the market, the first step is understanding your skin and it's specific needs. That means understanding your skin type. Skin type refers to how your skin naturally behaves. Dry skin tends to be more dull and tight-feeling and might have some flakiness in areas, while oily skin tends to be more shiny and more prone to breakouts. Sensitive skin types are more easily irritated, resulting in redness and inflammation. If you're concerned about fine lines and wrinkles, look for products that have anti-aging benefits. If you're not sure or don't have any big skin concerns, you may have combination or "normal" skin and you can use products for all skin types.
YOUR BASIC ROUTINE
The building blocks of a skincare routine come down to three main steps: cleansing, moisturizing, and SPF. Once you have the basics down, adding in additional products like serums, toners, and masks can be opportunities to explore. For beginners, these basic steps are all you need to take care of your skin.
Step 1: Cleanser
Swapping out the bar soap or splash of water for a cleanser that's formulated for your skin type can make a huge difference. Our skin comes into contact with a variety of environmental stressors like dirt, pollutants, and bacteria every day. That's why it's important to cleanse your face at least once a day to maintain healthy skin.
HOW TO: Rinse your face with water first and then go in with your cleanser, massaging the product into your face with your hands before rinsing it all away. Make sure to pat your face with a washcloth to dry instead of scrubbing, which can irritate the skin. For best results, cleanse morning and night.
FOR DRY AND DULL SKIN
FOR OILY SKIN
FOR SENSITIVE SKIN
FOR AGING SKIN
FOR NORMAL SKIN
Step 1.5: Here's where you can get creative
Any toners, serums, or treatments can be added here, after your cleanser. A good rule of thumb is to apply products from thinnest to thickest consistencies. That usually means toner, then serum before moisturizer. If that sounds like too much on your plate, no worries! This is not an essential step, especially if you're using targeted products in the rest of your routine. Feel free to go straight to your moisturizer. If you are interested, check out our toners, serums, and face masks for all skin types.
Step 2: Moisturize
Keeping your skin moisturized is essential, no matter what your skin type is. Using a moisturizer helps your skin maintain essential hydration levels and prevent the loss of water from the skin, boosting your natural protective skin barrier and supplying your skin with essential nutrients. Moisturizer is especially helpful as we age and our skin loses its ability to retain moisture. For healthy, glowing skin with less wrinkles and fine lines, moisturizer is your best friend.
Many people say they don't like wearing moisturizer because it can feel heavy on the skin. The key is finding a moisturizer that's right for your skin type. For example, if you have oily skin, the last thing you want is a thick moisturizer that can feel suffocating on your skin, so look for a lightweight, oil-free or gel moisturizer.
HOW TO: Morning and night, apply a nickel-sized amount of moisturizer to your face and gently rub in with your fingertips, bringing the product down into your neck, as well, until everything is absorbed.
FOR DRY SKIN
FOR OILY SKIN
FOR SENSITIVE SKIN
FOR AGING SKIN
FOR NORMAL SKIN
Tip: Some people prefer using a designated "day cream" in the morning, which is generally a lighter weight formula and may contain ingredients like SPF, and then a "night cream" for nighttime, which is usually thicker and often contains more potent ingredients.
Step 3: Finish off your routine with SPF
The most important step in maintaining healthy skin is SPF. Exposure to UV rays from the sun can cause serious damage to the skin, not only putting you at risk of skin cancer, but also accelerate aging of your skin cells, leading to things like fine lines, wrinkles, dullness, sun spots, and hyperpigmentation. That's why applying sunscreen every day is essential to protecting from sun damage.
You might be scared of sunscreen because you've found it to feel greasy and heavy on the skin, but not all sunscreens are made the same, especially those that are meant for your face as part of your skincare routine.
HOW TO: Apply your sunscreen in the morning before being exposed to the sun, and try to reapply your sunscreen every couple of hours when possible.
FOR DRY SKIN
FOR OILY SKIN
FOR SENSITIVE SKIN
FOR AGING SKIN
FOR NORMAL SKIN:
There you go! Just three steps to healthier skin. For best results, repeat your skin care routine day and night.
They say habits take 21 days to form, and sticking to a skincare routine is no different. So don't feel discouraged if you're having a hard time keeping up with your skincare every day. Once you have your routine down, skin care can become a relaxing ritual of self-care, with plenty of opportunities to experiment and have fun with it, too.