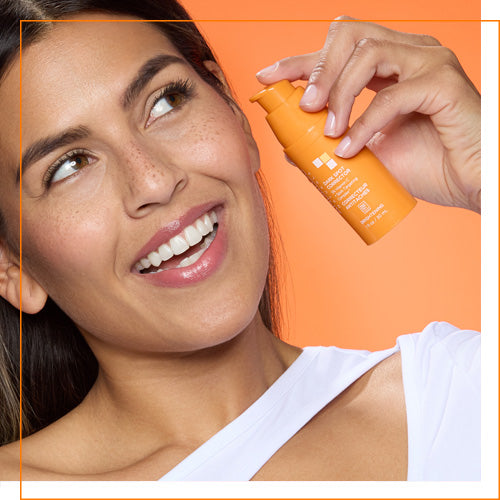 BRIGHTER DAYS AHEAD!
Introducing our NEW Brightening Dark Spot Corrector with 5%Vitamin CandSpot-Targeting Complex™to fight the appearance of dark spots and uneven skin tone plus promote an overall radiant glow.
WHAT ARE DARK SPOTS?
Dark spots and uneven skin tone are some of the most common skin concerns. Dark spots, or hyperpigmentation, typically refer to areas where there is an overproduction of melanin, the natural pigmentation in our skin, causing pockets of discoloration that are darker than your normal skin tone.
To prevent dark spots, it's important to protect your skin from the sun with hats and regular SPF use and avoid picking at your breakouts. Regularly using antioxidants like vitamin C in your skincare is also essential in preventing hyperpigmentation and dark spots. These antioxidants work to help prevent free radicals from damaging skin and interfere with melanin production in the skin.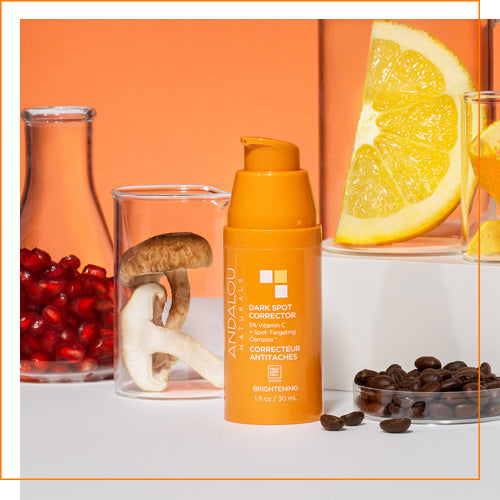 TARGET DARK SPOTS OF ALL KINDS WITH A NEW MULTI-ANGLE FORMULA
Our new Brightening Dark Spot Corrector is a supercharged, potent formula fueled by a powerhouse of brightening ingredients:
5% Vitamin C (Ethyl Ascorbic Acid) – A new generation of skin friendly and stable Vitamin C that helps promote collagen production, fight free radicals, and interfere with melanin production in the skin to prevent and reduce the appearance of dark spots.
Spot-Targeting Complex™
Pomegranate Stem Cells – Pomegranate is a superfruit with exceptional antioxidant properties. Its stem cells have been shown in studies to be 20x stronger than Kojic Acid at reducing discoloration-producing melanin production
Shiitake Mushroom Extract – balances melanin production and can penetrate deep into the upper layer of the skin to fade discoloration and dark spots and promote a youthful glow
Caffeine – has potent antioxidant properties and helps protect cells against UV radiation, slowing down the skin's photoaging process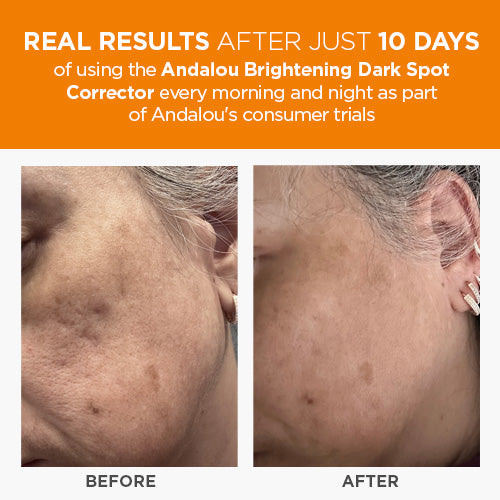 CLINICAL REPORT
91% noticed complexion appeared brighter and more youthful after just 4 weeks.**
94% noticed skin was softer and smoother looking after just 4 weeks.**
91% agreed immediately after each application skin tone looked improved.***
91% noticed an improvement in overall skin appearance.***
98% agreed this serum was gentle for daily use.***
*Based on instrumental measurement study with 54 panelists after 4 weeks of regular use
**Independent consumer perception study with 54 panelists after 4 weeks of regular use
*** Independent consumer perception study with 54 panelists after 6 weeks of regular use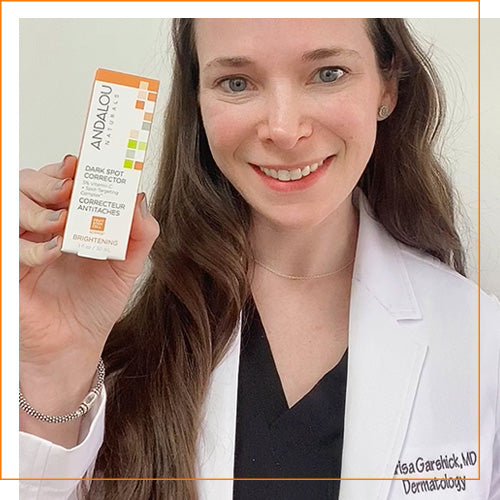 DERMATOLOGIST APPROVED
"I love that the Andalou Naturals Dark Spot Corrector combines the benefits of Vitamin C with the Spot-Targeting Complex™ to improve discoloration while also protecting the skin from free radical damage. It is a great option for anyone dealing with dark spots as a result of aging, sun damage or post-acne marks."
- Board certified dermatologist, Dr. Marisa Garshick
Should I only be using this on specific spots?
Our Dark Spot Corrector is designed to be used either as a spot treatment or an all-over serum. Our Spot-Targeting Complex™ targets only excess melanin so it won't lighten your overall skin tone if you do use it all over your face.
Can I use this alongside my Brightening Turmeric + C Enlighten Serum?
Definitely! The Brightening Turmeric + C Enlighten Serum is a great all-over brightener serum while the Brightening Dark Spot Corrector can be used as needed to target dark spots and areas where you might need a little extra brightening.
What's the difference between this Ethyl Ascorbic Acid and other forms of Vitamin C?
Ethyl Ascorbic Acid is one of the most stable and more tolerable forms of Vitamin C. If you haven't been able to tolerate high-strength vitamin C in the past, you will find that the Ethyl Ascorbic Acid in our Dark Spot Corrector is a better option for your skin. In short, Ethyl Ascorbic Acid has all the same benefits of vitamin C derivates such as L-Ascorbic Acid, Sodium Ascorbyl Phosphate, and Magnesium Ascorbyl Phosphate, helping to support collagen production, improve hyperpigmentation and uneven skin tone, and providing antioxidant protection against free radicals, but is generally found to be more stable and more tolerable.
Is a higher percentage of Vitamin C always better?
Not necessarily. While many forms of Vitamin C are more potent in higher percentages, they have also been shown to have a higher risk of irritation when used at higher levels. The specific Vitamin C used in our Brightening Dark Spot Corrector, Ethyl Ascorbic Acid, can be used in levels below 10% with as much powerful of results due its amazing stability.
Can this be used by darker skin tones?
Vitamin C is a great brightening ingredient to help dark spots and hyperpigmentation for all skin types because it will target excess pigmentation without lightening the skin tone overall, unlike bleaching ingredients such as hydroquinone.
Should this be used at night or during the day?
You can use the Brightening Dark Spot Corrector during the day or at night, depending on your routine. One of the great things about Vitamin C is that it can help defend against free radicals from the sun, so using it during the day can help prevent sun damage.