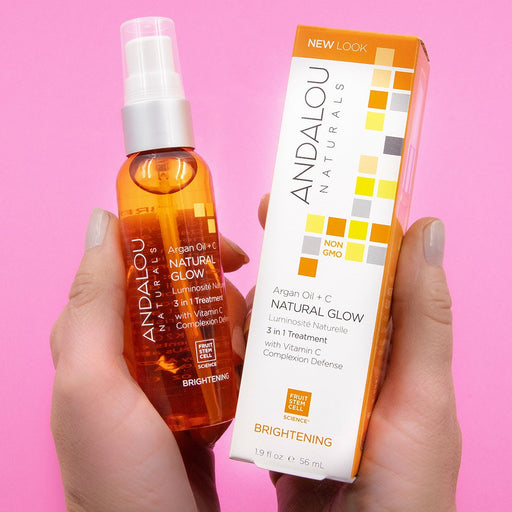 We all have our go-to beauty regimen that we love to follow. But sometimes it's fun to change it up – especially if that means simplifying your beauty routine.

Andalou's Argan Oil + C Natural Glow 3 in 1 Treatment is a multi-tasking oil created for head-to-toe nourishment. It will quickly become a favorite go-to beauty potion.

Formulated with argan oil, which is packed with rich omega fatty acids and vitamin e, this beautiful oil will give your skin and hair the healthy, natural glow they deserve.
3 Beautiful Ways to Use
1. After cleansing a.m. or p.m., apply small drops of oil directly onto your face and neck for a natural glow. Tip: You can also add small drops to your Andalou facial toners, moisturizers, and masks to add an additional moisturizing benefit to your favorite products.

2. Rub the oil between your hands and smooth through your hair from scalp to ends to protect and condition strands. You can apply to either dry or wet hair. Tip: When your hair is still wet apply oil to your hair as a leave-in conditioner to deeply condition and hydrate.

3. Apply small drops of oil to dry skin regions such as: elbows, hands, nails and cuticles. Tip: Massage oil onto your heels for an overnight treatment to soothe and moisturize. Wear socks to enhance the benefit of hydrating and moisturizing your feet.

Enjoy this beauty wonder in a bottle – We know we will!