Best Serum for Your Skin Type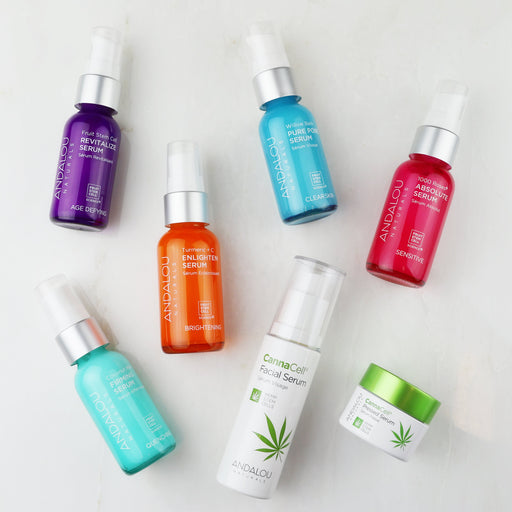 If there's one step in your daily skin care routine that you don't want to skip, it's applying serum.
Using a serum is the best way to deliver a high concentration of targeted antioxidants and potent bioactives to maximize your desired skin care results. Because serums contain tiny molecules, they're able to penetrate the deep layers of your skin cells with their potency and efficacy. 
From acne to wrinkles, dry skin, and everything in between, serums have different purposes that help to specifically target various skin concerns and types. Start layering the goodness now with one of our seven serum options...
1. For Dry/Very Dry Skin: Fruit Stem Cell Revitalize Serum 
Resveratrol CoQ10, myrtle leaf extract, goji glycopeptides, and hyaluronic acid are known to build collagen and elastin for a more lifted, firmer, youthful looking appearance. This lusciously soft serum helps to plump the skin, minimizing the appearance of fine lines and wrinkles. Anyone with mature or dry skin will love it.
2. For Normal to Combination Skin: Turmeric + C Enlighten Serum
Vitamin c, turmeric extract, hyaluronic acid, and sea buckthorn oil help to target over-exposed surface cells for a lighter, brighter, and tighter complexion. This potent vitamin c serum helps to minimize the appearance of sun damage and hyperpigmentation while improving skin tone and texture. If you love being out in the sun, you'll love this citrusy serum.
3. For Oily & Overactive Skin: Willow Bark Pure Pore Serum
Willow bark, meadowsweet extract, witch hazel, and salicylic acid are know to help purify pores, curb bacteria, absorb excess oil, and fade the appearance of post-blemish pigmentation. For those with acne-prone skin, this calming serum will help you achieve a clear, balanced complexion. It's perfect for teens or anyone with reactive, adult acne.
4. For Delicate & Dry Skin: 1000 Roses Absolute Serum
Hyaluronic acid, pomegranate seed oil, and vitamin c help to soothe and nourish sensitive skin while moisture-binding humectants help to revive skin's hydro lipid barrier. If your skin is dry, delicate, or sensitive, this serum helps to protect skin by limiting inflammation and reactivity. Say goodbye to redness and irritation.
5. For Parched/Depleted Skin: Coconut Milk Firming Serum
Coconut milk, jojoba oil, and prickly pear extract are known to instantly hydrate, soften, and condition your skin. If your skin is especially depleted, this serum promotes lasting hydration for a lifted, firmer appearance and renewed vitality. It's like a glass of water for your skin in just 1-2 pumps.
6. For All Skin Types: CannaCell Facial Serum
Organic hemp seed oil, pure plant essential oils, and hyaluronic acid support a healthy and glowing skin complexion. Rich in omega fatty acids and vitamins, this nourishing, botanical serum is gentle and effective for all skin types and helps to defend against free radicals and protect against environmental stressors.
7. For All Skin Types: CannaCell Pressed Serum
Organic hemp seed oil, pure plant essential oils, and resveratrol deliver serious skin nourishment and help to give your skin a beautiful glow. The unique texture of this solid balm transforms into a velvety serum as rich emollients melt into your skin. Gentle and effective for all skin types, this pressed serum is definitely one everyone should try!