Pumpkin Honey Glycolic Mask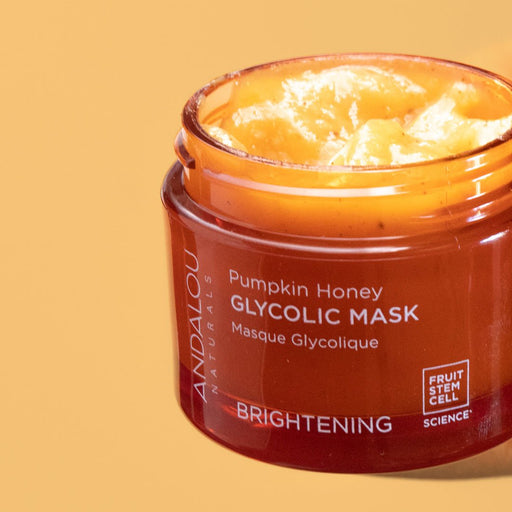 Honey? Pumpkin? Heaven!

Fall has not disappeared quite yet and that's great news because we are still falling in love with Andalou's Pumpkin Honey Glycolic Mask – and we know you will too.

What's in this jar of sweet goodness?

A powerful combination of fruit stem cells, vitamin C, and glycolic acid, with manuka honey and organic pumpkin, rich in beta carotene for radiant skin that glows.
Here's the inside scoop of what's inside and why it's great for your skin:

Vitamin C – helps improve hyperpigmentation and dark spots, evens skin tone, and increases dermal circulation and healthy cell turnover 

Glycolic Acid – gently exfoliates dead skin cells, smoothes wrinkles, and improves skin tone and texture 

Manuka honey – deeply nourishes to restore balance to skin and overall complexion

Organic pumpkin puree – rich in vitamins A and C to soften and smooth with natural enzymes that rejuvenate dry, dehydrated skin
Designed for Normal/Combination skin, from our Brightening Skin Collection
This mask gently dissolves and sweeps away dull, dry surface cells revealing a smooth texture and luminous complexion. Exfoliate and resurface your skin simultaneously for even skin tone and a bright afterglow.
Get your glow on all year long with the very best non-GMO ingredients for the most radiant, beautiful YOU.