How to Transition Your Skincare Routine for Fall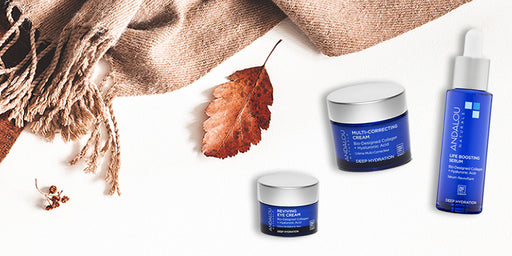 How to Transition Your
Skincare Routine for Fall
The seasons are changing and so should your skincare routine!
If you feel your skin getting dryer, you're not alone. Dropping humidity levels, colder temperatures, harsh winds, and dry heat from heaters can quickly take your skin from a dewy summer glow to a dry and dull complexion. It's time to make your skincare routine a little more fall-friendly. These cooler days call for lots of layers, in both your outfits and your skincare-- here's how to layer up your skincare to lock in moisture and keep skin glowing through the fall.
Skin can become more sensitive in colder months, due to things like hot showers, harsh winds, and indoor heaters which can compromise the skin's barrier. Consider switching to a gentler cleanser that won't strip the skin of its natural oils. Try the Sensitive 1000 Roses Cleansing Foam, which features barrier-boosting alpine rose stem cells, hyaluronic acid, pomegranate and rosehip oil.
A couple times a week, add in a gentle exfoliator like the Sensitive 1000 Roses Pearl Exfoliator to sluff off dry skin that can build up on the skin's surface while also soothing the skin with alpine rose stem cells and aloe vera.
After cleansing, apply a hydrating hyaluronic serum such as the Deep Hydration Life Boosting Serum to bind water molecules to the skin. Hyaluronic acid is your go-to skincare ingredient when your skin becomes dehydrated, which is common in a season change and usually evidenced by skin that feels tight, sensitive, appears dull, and shows fine lines.
Restore and maintain the skin's natural moisture levels by following up your serum with a rich moisturizing cream like the Deep Hydration Multi-Correcting Cream to seal in hydration and keep skin protected from moisture loss.
Finally, give extra-delicate under eyes some extra TLC with a nourishing eye cream like the Deep Hydration Reviving Eye Cream, featuring plumping hyaluronic acid and bio-designed, vegan collagen.