How To Transition Your Skincare Routine For Spring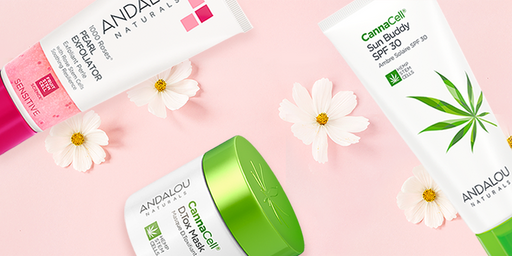 Spring is here! Spring cleaning applies to your skincare routine, too: out with the old, in with new. As the weather starts to get warmer and more time is spent outdoors, it's important to address your skin's changing needs. Here's how we're updating our routine for the spring:
Exfoliate
Consider adding in an exfoliator to slough off the dry skin and dullness that's accumulated from winter. Gentle exfoliation 2-3x a week will leave your skin looking smooth and radiant and feeling renewed for spring. Try our Sensitive 1000 Roses Pearl Exfoliator to gently exfoliate delicate skin, our Clear Skin Lemon Sugar Facial Scrub if you're more prone to breakouts, or our nourishing CannaCell X.Foliate Scrub with organic hemp seed oil for a complexion that glows.
Try a Face Mask
Need a skin reset after a long winter? Our Brightening Pumpkin Honey Glycolic Mask banishes any dry skin cells from winter and brightens dullness for a glowing spring complexion. Or, if you feel your skin is in need of some soothing relief after stripping winter days, try our new 1000 Roses Soothing Sleeping Mask 1-2 times per week before bed.
Lighten Up
Swap out thicker and more rich winter formulas for lighter springtime formulas that won't sit heavy on your skin as the weather gets warmer. Some of our favorite springtime moisturizers are our Brightening Probiotic + C Renewal Cream that balances and brightens the skin and our Clear Skin Acai & Kombucha Oil-Free Moisturizer for oily and acne-prone skin. Or try swapping your daytime moisturizer for a hydrating serum, like our Deep Hydration Life Boosting Serum, which will draw in moisture from the spring air to your skin with hyaluronic acid, so your skin is plumper, hydrated, and full of new life.
Don't Forget Your SPF!
As the weather gets warmer and the sun gets closer to the earth, UV rays get stronger, making it especially important to protect your skin against sun damage. Even on those rainy spring days, harmful UV rays are still very much present, so don't skimp on the SPF. Andalou SPFs combine sun protection with powerful skincare ingredients so you can address any skin concern while staying protected from the sun. Try our Age Defying DIY Booster SPF 30 Facial Serum to help fight signs of aging, our CannaCell Sun Buddy SPF 30 with hemp stem cells for a complexion that glows, or our Brightening Vitamin C BB Beauty Balm Sheer Tint SPF 30 to help brighten dullness while providing a sheer, natural tint for one less layer of makeup.
Shop our curated spring shop now for all our product picks to achieve glowing skin this spring.